Becoming a Node
Hosting Fabricademy is open to different kinds of institutions like Fab Labs, textile co-working spaces, textile research centers, creative spaces, fashion and design schools, artist studios.

If you are currently in the process of setting up Node thanks to funding you can directly contact us at coordination@textile-academy.org and we can guide you through with process.
The key inventory required for the places that are willing to offer the program are highlighted below.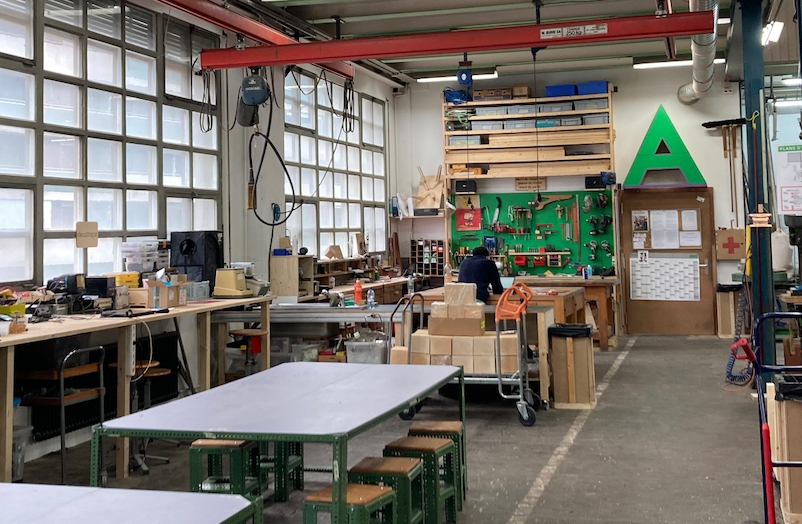 In the picture our Node: Fab Lab Onl'fait Geneva, Switzerland.
Location of the recent Fabricademy Bootcamp 2022
---
Basic Requirements
Machines / Fab Lab Equipment
Textile fabrication lab
DIY Bio Lab

An ideal number of students is 5 per year, but you can start getting the training as well to become instructor as a "single node".
In case of no local instructor, a remote instructor, part of fabricademy global team is assigned to mentor, evaluate and guide the Node participants.
A Fabacademy alumni can also become a local instructor by attending one of our intensive bootcamps. We offer training for instructors in the form of Bootcamps before the course as well as online open-access materials for getting prepared.
It is not required to have computers/work stations for participants, as long as the Node informs the applicants in advance that they are required to have a laptop able to run 3D modelling, image and video editing programs.
We have a list of all possible inventory required for setting up a Node from zero and separate tab explaining the consumables required for each module at our inventory. For the most up-to-date list of recommended machines and supplies, see: the Fabricademy Lab Inventory.
2023/24 Nodes
Asia
Fab lab O Shanghai, China
Tongji University, Shanghai
Contact: Saverio Silli
Fab Lab Kamakura, Japan
Contact: Jun Kawahara
Europe
Fab lab Digiscope, Paris-Saclay, France
Paris-Saclay University
Contact: Romain Di Vozzo
Le Textile Lab, Lyon, France
Contact: Pauline Gamore
Green Fabric, Bruxelles, Belgium
Contacts: Valentine Fruchart
Basque Bio Design Center, Bilbao, Spain
Contact: Adele Orcajada
Fab Lab Leon, Spain
Contact: Nuria Robles
Iaac, Fab Lab Barcelona, Spain
Fab Lab Barcelona / Institute for Advanced
Architecture of Catalonia
Contact: Santi Fuentimilla
TextileLab Amsterdam, The Netherlands
Fab Lab Amsterdam / Waag Society
Contact: Cecilia Raspanti
Icelandic Textile Center
Blondus, Iceland
Ziphouse Fashion Hub Moldova
Chișinău, Moldova
Fab Lab Lisboa, Portugal
Contact: Rafael Calado
Fondazione Mondo Digitale, Rome, Italy
Contact: Matteo Viscogliosi
Onl'fait, Geneva, Switzerland
Contact: Cristina Olivotto
North America
Echofab Fab Lab Montreal, Canada
Contact: Monique Chartrand
Fab Lab Maya, Quintana Roo, Mexico
Contact: Trinidad Gomez
South America
Fab Lab ZOI, Quito, Ecuador
Contact: Roberto Gallo
Ellora Ateliê, São Paulo, Brazil
Contact: Angela Barbour
Middle East
Techworks, Amman, Jordan
Contact: Ismail Hakki
Lab Equipment
Fabricademy's inventory is an extension to the fab lab inventory with textile equipment and a DIY Bio Lab.
---
Setting up a Fab Lab
3D Printer FDM
Laser cutter Co2
CNC Milling Machine
Vinyl cutter
Molding, casting, composites
Soldering station / electronics workbenches and materials
Big screen
(a big screen is preferred to a projector)
Good internet connection
> For more information about how to set up a Fab Lab you can refer to FabFoundation's website.
---
Setting up a Textile Lab
If you are already a Fab Lab or collaborate with a local makerspace or co-working with this equipment there are few machines and equipment necessary to run the program.
Sewing machine industrial normal / (second hand/optional)
Sewing machine industrial overlock / (second hand/optional)
Digital desktop Sewing machine / it can be versatile and combine digital embroidery
Knitting machine / optional
Weaving machine / optional
Tufting workshop / optional
Heat press
Soft actuators / e-textiles (conductive threads, conductive fabrics, mini vibration motors…)
Scissors, threads, yarns, natural and synthetic textiles
Big working tables (as fashion schools)
Roland Tex-art dye sublimation printer / optional
---
Setting up a DIY Bio Lab
In our inventory you can find basic equipment to set up a DIY Bio Lab
Kitchen tools, incubator, petridishes etc..
Grow tent, smart citizen etc..