Becoming a Node
Hosting Fabricademy is open to different kinds of institutions like Fab Labs, creative spaces, fashion and design schools, artist studios.
Fabricademy is open also to organizations who are not Fab Labs. While some Fab Lab equipment is necessary to complete the course, having access to one nearby is considered acceptable.
You can attend the 13 classes within your current study program in a school or join the full program in a participating Node.
The key elements required to host the class are hilighted below.
Basic Requirements
Here are the basic requirements and expectations for any lab that wishes to participate in the Textile Academy course.
You should have a working group of at least 3 or 4 students, and a qualified instructor following them. We offer training for instructors in the form of Bootcamps before the course as well as online materials.
Your lab MUST be equipped with all the necessary machines and other supplies to be able to participate in the Academy. Labs that are not properly equipped are not eligible to participate in the Academy, as the students will not be able to complete the course.
As this is a bleeding edge program, and inventory specification is continually being updated. For the most up-to-date list of recommended machines and supplies, see: the Fabricademy Lab Inventory
Lab Equipment
Fab Lab equipment: 3D Printer / Laser cutter / Molding and casting/ cnc milling / materials / Composites / Electronics equipment
Workstations for CAD modeling
Basic biolab
Sewing machine industrial normal
Sewing machine industrial overlock
Sewing machine small digital
Knitting machine
Knitting machine electroloom
Fab Loom
Soft actuators - e-textiles (conductive threads, conductive fabrics, mini vibration motors…)
Scissors, threads, yarns, natural fibers
Big working tables (as fashion schools)
Roland Tex-art dye sublimation printer
Embroidery machine
Be part of our International Network!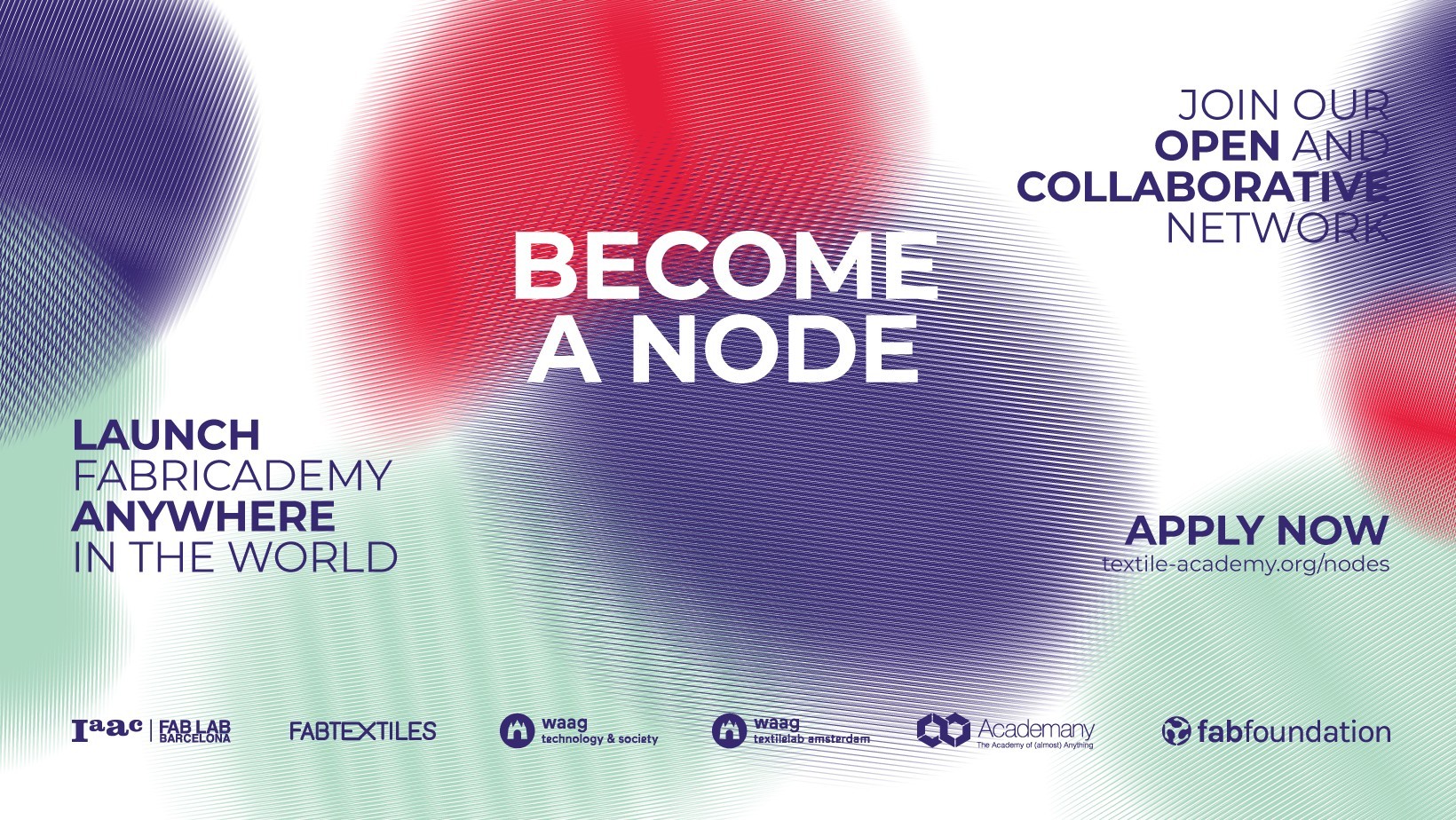 2021/22 Applications are open for Nodes!
Would you host #Fabricademy2021 at your lab? Don't miss the opportunity to teach Fabricademy in your city this September.
Follow the link below to fill the application form 2021!
2022/23 Nodes
Europe
Fab Textiles Barcelona, Spain
Fab Lab Barcelona / Institute for Advanced
Architecture of Catalonia
Contact: Anastasia Pistofidou
TextileLab Amsterdam, The Netherlands
Fab Lab Amsterdam / Waag Society
Contact: Cecilia Raspanti
Matrix Open Innovation Lab Düsseldorf, Germany
Matrix GmbH & Co. KG
Contact: Adriana Cabrera
Fab lab Digiscope, Paris-Saclay, France
Paris-Saclay University
Contact: Romain Di Vozzo
Le Textile Lab, Lyon, France
Contact: Pauline Gamore
Fablab ULB + Green Fabric
Université libre de Bruxelles, Belgium
Contacts: Denis Terwagne, Valentine Fruchart
Basque Design Center, Bilbao, Spain
Contact: Adele Orcajada
Fab Lab Lisboa, Portugal
Contact: Rafael Calado
Curiosibot Lab, Valencia, Spain
Contact: Alayna Hughes
ViNN:Lab, Wildau, Germany
Technische Hochschule Wildau,
Contact: Eva Ismer
Fab Lab Leon, Spain
Contact: Nuria Robles
Fondazione Mondo Digitale, Rome, Italy
Contact: Matteo Viscogliosi
Onl'fait, Geneva, Switzerland
Contact: Cristina Olivotto
Fab Lab Zagreb, Croatia
Contact: Roberto Vdović
Aegean Idea Lab, Paros, Greece
Contact: Kathy Sinclair
North America
Dassault Systèmes 3DEXPERIENCE Lab, Waltham, Massachusetts, USA
Contact: Bali Abhishek
Echofab Fab Lab Montreal, Canada
Contact: Monique Chartrand
Fab Lab Yucatan, Mexico
Contact: Oscar Díaz
Fab Lab Maya, Quintana Roo, Mexico
Contact: Trinidad Gomez
South America
Fab Lab ZOI, Quito, Ecuador
Contact: Roberto Gallo
Fab Lab Esan, Lima, Peru
Contact: Carlos Silva
Fab Lab MVD, Montevideo, Uruguay
Contact: Maite Sosa
Ceyborg, Buenos Aires, Argentina
Contact: Eliana Guzmán
Ellora Ateliê, São Paulo, Brazil
Contact: Angela Barbour
Asia
Fab lab O Shanghai, China
Tongji University, Shanghai
Contact: Saverio Silli
Fab Lab Kamakura, Japan
Contact: Jun Kawahara
Fab Lab Kerala | Kerala Startup Mission, Kochi, India
Contact: Nadeem Ahmed
Fab Lab Vigyan Ashram, Maharashtra, India
Pune, India
FabLab Chandigarh | Zios Makerspace, India
Contact: Nishtha Kaushik
Middle East
Fab Lab Bahrain, Manama, Bahrain
Contact: Salman Aloraibi
Fab Lab Irbid, Jordan
Contact: Nadine Hasan Abu Tuhaimer
Techworks, Amman, Jordan
Contact: Ismail Hakki
Scale7, Doha, Qatar
Contact: Tasnim Hussain