The Textile Academy Bootcamp is an in-depth week-course meant for creatives, fashion and textile designers, both teachers and students and digital fabrication experts.
During the course participants will explore new possibilities and alternatives to the current textile and clothing manufacturing systems guided by technologists, textile and fashion designers, computational experts and other specialists in the field from all over the world.
---
Fabricademy Bootcamp 2024 will be held in May, stay tuned to discover the upcoming location!
---
Past Fabricademy 2023 Bootcamp, May 20th-27th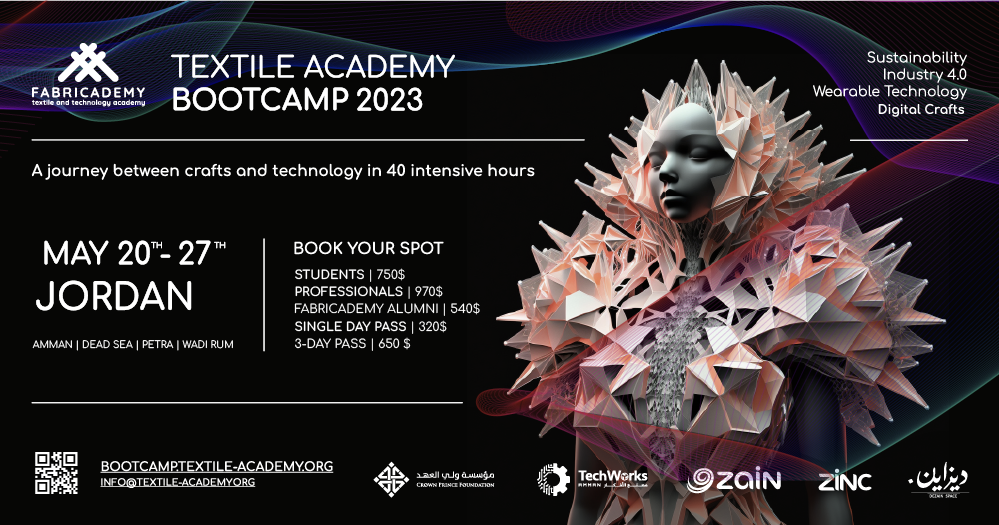 A unique event that combined traditional crafts & digital fabrication processes in a series of workshops and trips across the country.
---
Fabricademy Bootcamps | What you will get
Hands-on sessions with the course founders and top faculty members
Online lectures by world-renowned experts
Final project development
Practical experience with the machines and the materials used during the course
The unique opportunity to meet and work for a full week with experts, creatives and professionals in the fashion and textile industry
Early access to future trends and technologies to improve your knowledge and skills
Experience the local culture and travel with locals
Work with artisans, invited designers and local communities on collaborative projects
Blend traditional crafts with digital fabrication processes
---
Host a Bootcamp at your lab
We know travel is expensive, and not everybody can move to a different city for a whole week. But don't despair! We can organize a bootcamp tailored for your community and bring all the content in your lab. Send an email today to info@textile-academy.org with subject: "host Bootcamp".
For more information about requirements visit the Fabricademy nodes page.
---
Past Bootcamps